I have had an email notification in my inbox for a couple weeks now, the latest newsletter from
Kat Eye Studio
, with an invitation to join in Kat's
Exploring with a Camera
series.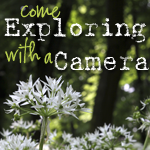 I love Kat's insights on photography, creativity, and life. With the extra busy-ness of the Christmas holiday season, I didn't really have time to do much with it...until now. This is the first time I've participated in one of Kat's challenges. TBQH, it's partly because I already had a couple decent shots that would fit the bill. But, more importantly, the title "Find the Light in Darkness" has been whispering quietly to me from the shadows, calling to mind the words from a favorite Advent hymn,
A Season of Light
. When I googled the hymn, searching for lyrics to share, I found
this wonderful post
.
In photography, it's all about the light. And in night photography, that light is all the more precious - and elusive with a camera.
This is a shot of my brother Greg's home, where our extended family gathered for Christmas Eve. When we drove up, my nephews, Danny and Joey, were busy setting up luminaria (see
my previous post
). I quickly darted out into the cold night to try and capture the beautiful effect. Just my handheld camera + my 50mm lens, set to Aperture Priority. These images speak to me of the hospitality and warmth of the Christmas season...if you look closely you can peer into the windows where everyone was having a good time!
I quickly arranged the two best shots into a Lightroom layout (thank you
again
Kim Klassen
) and here we are...these shots are SOOC (Straight Out Of Camera).
spark in us a season of light
xoxo
Cindy